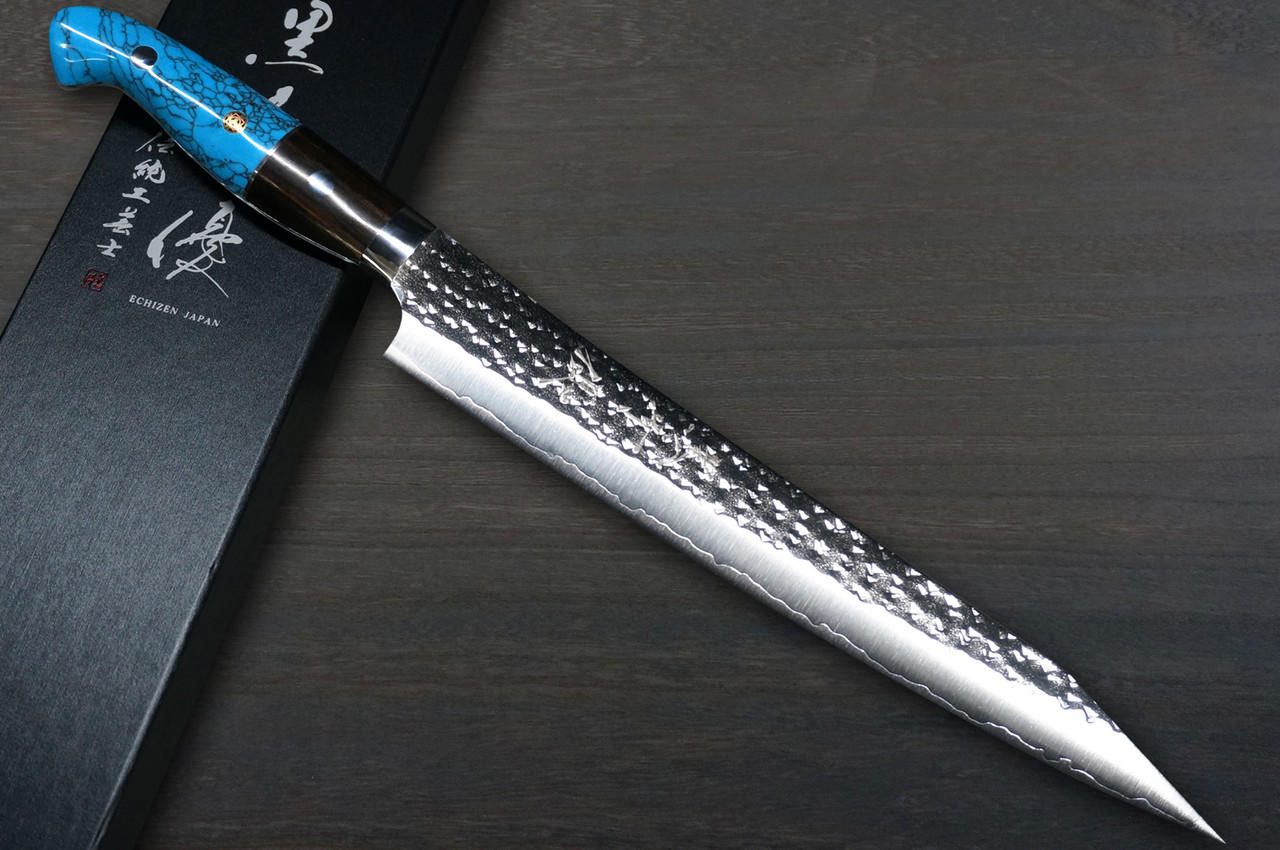 Yu Kurosaki R2(SG2) Hammered SENKO-EI Custom EBTC
img by : hocho-knife.com
In the vast realm of Japanese knife craftsmanship, Yu Kurosaki stands out as a contemporary artisan, celebrated for his innovative designs and impeccable attention to detail. Among his exceptional creations, the R2(SG2) Hammered SENKO-EI Custom EBTC has generated quite a buzz in the culinary world. Here's an in-depth review of this coveted blade.
Aesthetics and Design
The first thing that catches the eye is the knife's unique hammered finish, known in Japanese as "Tsuchime". This not only gives the blade a distinct and attractive appearance but also offers practical benefits, like preventing food from sticking to the knife's surface. The SENKO-EI design, characterized by its radiant patterns, further elevates the aesthetic appeal, making it as much a piece of art as it is a culinary tool.
Material and Performance
At the heart of the knife lies the R2(SG2) steel, a high-carbon stainless steel known for its remarkable edge retention and resistance to corrosion. This ensures that the blade remains razor-sharp even after extensive use, requiring less frequent sharpening than many of its counterparts.
Ergonomics and Handle
Yu Kurosaki's dedication to user experience shines through in the ergonomically designed handle of the SENKO-EI Custom EBTC. Crafted with precision, the handle ensures a comfortable and secure grip, allowing for prolonged usage without fatigue. The balance between the blade and the handle is masterfully achieved, giving users a sense of control and precision.
Durability
With its high-quality materials and exceptional craftsmanship, this knife promises longevity. The R2(SG2) steel, combined with the protective qualities of the hammered finish, ensures that the blade withstands the test of time, retaining its form and function through years of rigorous use.
Price Point
While the Yu Kurosaki R2(SG2) Hammered SENKO-EI Custom EBTC might come with a premium price tag, it represents an investment in unparalleled craftsmanship and performance. For those who appreciate the nuances of a top-quality knife, the price is a reflection of its value.
Conclusion
The Yu Kurosaki R2(SG2) Hammered SENKO-EI Custom EBTC is a testament to the evolution of Japanese knife-making. It beautifully marries tradition with modern innovation, resulting in a tool that's both functional and visually stunning. For chefs and culinary enthusiasts looking for a blend of performance, design, and durability, this knife is an exemplary choice.