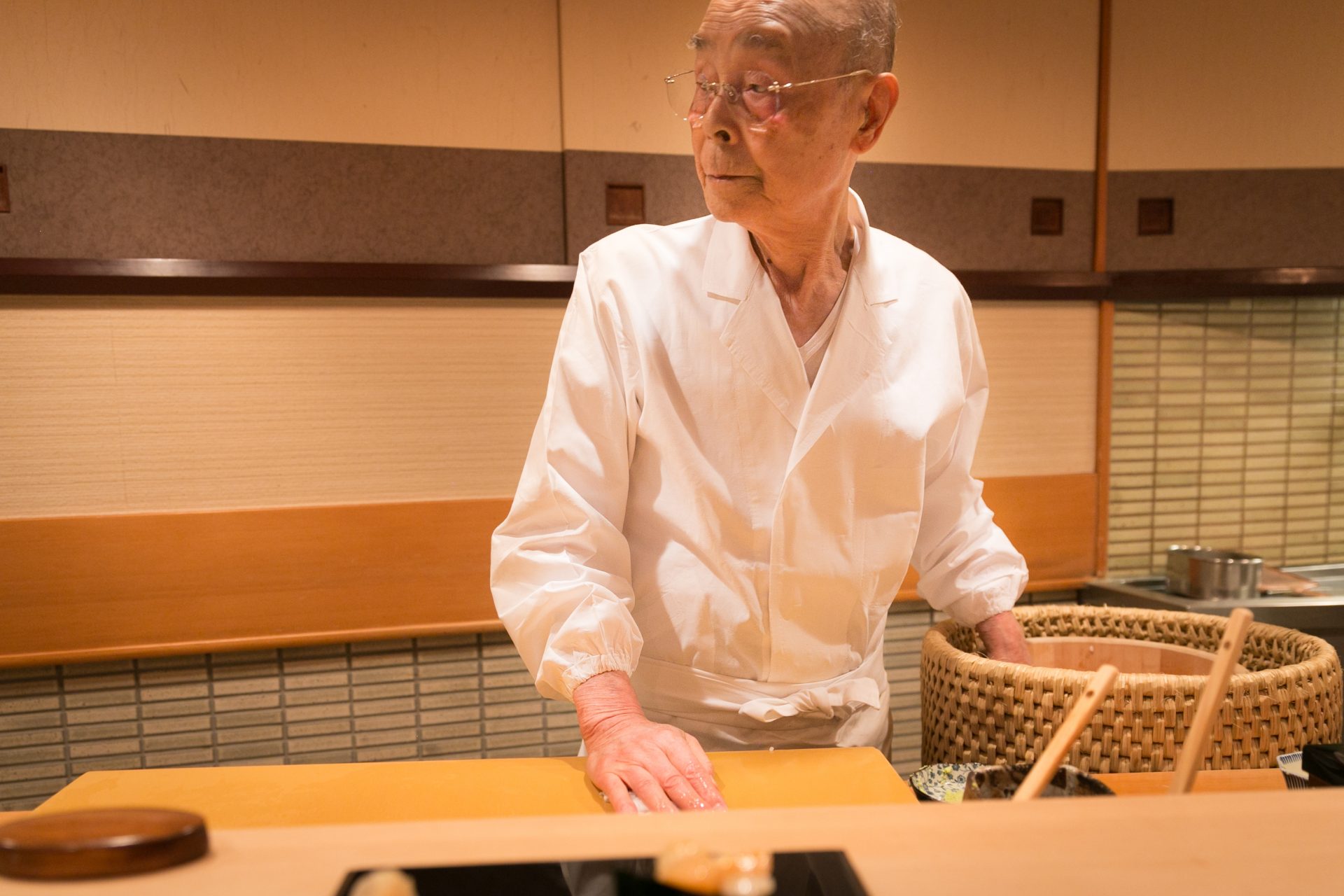 The Sushi Master "Jiro Ono"
img by : wikipedia.org
Japanese food is known for its intricacy and delicacy that melts the hearts of food lovers worldwide. Specifically when it comes to its sushi and sashimi dishes, diners are pouring all the love into the aesthetics – of this includes ingredients selection and placement. As Japanese delicacies require intricate processes and skills of the blades to successfully craft authentic dishes, only a selected few are considered sushi masters.
Known as the 'Sushi Master', Japanese chef Jiro Ono is credited by his colleagues, contemporaries, and critics as the greatest sushi chef alive. He is famously known for being the owner of Sukiyabashi Jiro, the three-star Michelin Japanese restaurant located in Tokyo, Japan. Jiro started his cooking career at age seven, and for the next seven decades, he has worked tirelessly to continuously improve his craft. Now at 91 years of age, Jiro maintains his daily routine every day of the week. While his restaurant is small and unassuming, Sukiyabashi Jiro has gained international fame and is credited for providing the greatest sushi meal on the planet, with much of the credit due to Jiro. Not only is Jiro a sushi master, he is also recognized for developing innovative methods used in modern sushi preparation. Every step in Jiro's preparation is meticulously calculated – from the texture and flavor of the raw ingredients, to the temperature of the rice on which the sushi is served.
Jiro Ono was born on October 27, 1925 in present-day Hamamatsu, Shizuoka Prefecture, Japan.
He started his cooking career at the age of seven when he worked at a local restaurant. Two years later, he would leave his hometown for Tokyo where he would study as an apprentice. In 1951, after nearly two decades of training, Jiro would become a qualified sushi chef, and has been making sushi ever since. Jiro would continue working as a chef until 1965, when he opened Sukiyabashi Jiro in Ginza, Tokyo.
Sukiyabashi Jiro is located in a small, unassuming underground corridor near a Tokyo subway station. While it certainly doesn't look like it on the outside, the restaurant has a global reputation for serving the best sushi available on the planet. With only enough seating for ten people at a time, reservations are needed to be made at least three months in advance. There is no menu available at Sukiyabashi Jiro, as the dishes are selected on Jiro Ono himself. A meal covers roughly 20 courses, and prices range from $300 to $400 per person.
Over the course of his cooking career, Jiro Ono has turned Sukiyabashi Jiro into the most famous sushi restaurant in the world. Not only has the restaurant received three Michelin stars, but it also boasts an impressive client list that includes former Japanese Prime Minister Shinzo Abe, former USA president Barack Obama, world-renowned chefs Joel Robuchon and Ferran Adria, and countless Hollywood stars and athletes such as David Beckham and Tom Cruise.
In the late 2000s, American film director David Gelb and famed food critic Masuhiro Yamamoto had plans to make a documentary on sushi by visiting various sushi chefs and analyzing their cooking styles. After visiting Sukiyabashi Jiro, Gelb was so blown away by the food that he decided the entire documentary would be only about Jiro Ono and none other.
Gelb's documentary named 'Jiro Dreams of Sushi' was released in 2011 and documents Jiro's continued quest to perfect the art of sushi making. The documentary debuted in the United States at the Provincetown International Film Festival, and was positively received and grossed more than $2.5 million in North America alone. On Box Office Mojo, the documentary is ranked 70th among all US documentaries.
While much is known about Jiro Ono's professional life, not much is known about his personality.
He has two sons, both of who are also sushi chefs. Yoshikazu, his oldest son, works under Ono at Sukiyabashi Jiro and is likely to take the reigns at the restaurant after his father. His younger son, Takashi, manages his own two-star Michelin restaurant located in Minato, Tokyo which is a mirror image of his father's restaurant.